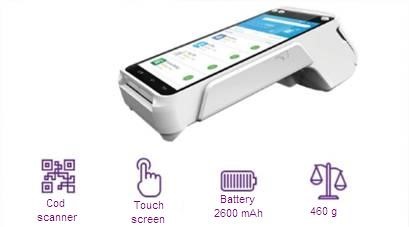 Buying an online till, you get a 3 in 1 device that combines an online till, an UzCARD terminal for accepting payments from plastic cards and a device for reading QR codes and barcodes.
Onlayn-NKM sotib olsangiz, siz onlayn-NKMni birlashtirgan 3-si1-da apparatini, plastik kartalardan to'lovlarni qabul qilish uchun UzCARD terminalini va QR-kodlar va shtrix-kodlarni o'qish moslamasini olasiz.
The PAX-A930 is a new generation of PCI PTS 5.x va EMV certified wireless online cash registers with the latest processor and PayDroid OS based on Android 7.1. Thanks to built-in 4G, Wi-Fi and Bluetooth connections, as well as a high-capacity battery, the device allows you to accept all types of payments (cash and non-cash), has a built-in UzCARD terminal and provides maximum performance. The device is equipped with two cameras for reading QR and barcodes. The compact device fits comfortably in the hand, and the 5.5-inch high-resolution touchscreen display offers the user a new graphical experience different from traditional POS terminals and online cash registers.
Attention! According to the Decree of the President № 5813 that is of 6th September, 2019, on the phase of switching to using register machines of online cash / virtual registering entities of cash business:
In regards of them, the obligations concerning the utilization of operating cash registers with fiscal memory, the maintenance of the register of cash by the cashier-operator, withdrawal at the ending phase of the working day of the daily report on each cash register shall be canceled;
They possess the right, despite the size / volume of the moderate daily cash proceeds, to pass it to the cash desks of banks via the services of collection in the phases that are determined by them;
They are provided the the right to minimize the amount of accrued / payable income tax / a single tax payment or a fixed amount of tax by the amount of expenses that is associated with the acquisition, installation, launch of each online KKM, but no more than 10 times of the the volume of the base, calculated value with the condition of registration of online cash register in the governmental tax authorities until the period of January 1, 2021;
They are given the cardinal part of the software product (base) of the virtual cash register by the State Tax Committee of the Republic of Uzbekistan free of charge;
For purchase of Online cash registers by installments, please contact the bank branches or by phone: (78) 148-40-08, (71) 200-45-45, (71) 200-15-15.
Technical Specifications of PAX-A930:
OS

PayDroid Powered by Android 7.1

Prosessor

Application CPU: Quad-core Cortex®-A53, 1.4GHZ

Security CPU: 32-bit RISC Core (ARMv7-M)

1.25DMIPS/MHz

Storage

1GB DDR + 8GB eMMC

Display

5.5-inch 720 x 1280 IPS Display with Capacitive Touch

Keyboard

1 * On / Off Button

1 * Volume Up Button

1 * Volume Down Button

Sensors

Automatic brightness sensor G-Sensor (optional)

Card Readers

Magnetic card reader

Smart card reader

Contactless card reader

Camera

Front: 0.3 Megapixel fixed focus camera

Rear: 5 Megapixel autofocus camera with LED flashlight

Battery

7.2V / 3350 mAh Li-ion battery

Speaker

1 * Speaker

Size

190 x 84.4 x 65.8 mm

Weight (g): 460 (Including battery)

Comms configurations

FDD-LTE / TDD-LTE

WCDMA/ TD-SCDMA / EVDO

GSM / CDMA

Bluetooth 4.2

WiFi: 802.11 b/g/n, 2.4GHz, 802.11ac b/g/n, 5GHz (optional), Hotspot support

Location

GPS
Glonass
BeiDou
Galileo

Printer

2 Inch High Speed Thermal Printer

Print speed: 80mm / s

Paper Width: 58mm

Diameter: 40mm

Interface ports

1 * SIM card slot + 2 * SAM card slot (or 2 * SIM

+ 1 * SAM)

1 * Micro SD card slot, supported up to 128GB

1 * Type-C charging port

Port (USB 2.0 OTG)

1 * 3.5 mm Audio Jack

6pin POGO pin

Accessories (optional)

Charging base

Multifunctional base with ports: 1RS232, 1 * LAN (RJ45), 2 * USB Type-A Host, 1 * USB Type-C charging port, 1 * LED power indicator

Indicators

Contactless transaction indication: Blue, Yellow, Green, Red

Smart card indication

Terms of Use

-10°C ~ 50°C (14°F ~ 122°F) Working temperature

-20°C ~ 70°C (-4°F ~ 158°F) Storage temperature

5% ~ 96% RH, no condensation

Adapter

Input: 100 - 240V AC, 50Hz / 60Hz

Output: 5.0V DC, 2.0A