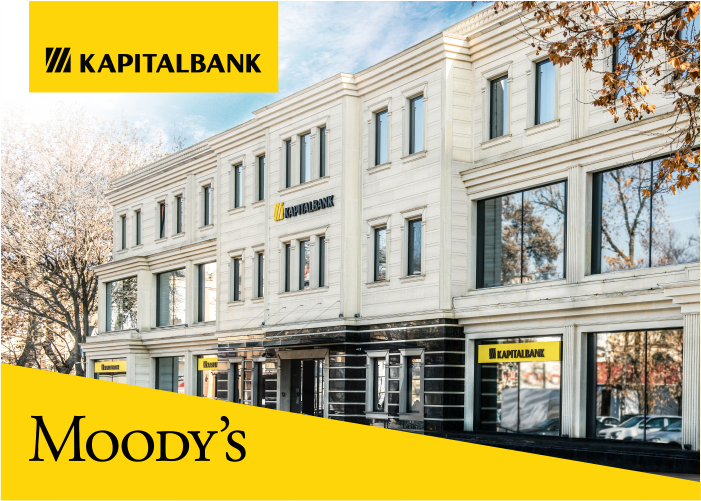 01/31/2023 11:47:14
On January 27, the international rating agency Moody's upgraded the Baseline credit assessment (BCA) of Kapitalbank JSCB to b2 from b3 and the long-term local and foreign currency bank deposit ratings to B2. The main drivers for improving the bank's reliability assessment were amplification of retail lending, growth of profitability and asset quality.

Over the past years, Kapitalbank JSCB continued to demonstrate a steady growth in return on assets and high profitability profile, due strong fee and commission generating capacity and the bank's rapid lending growth with increasing focus on high yielding retail loans. At the same time, asset quality continues to improve. According to Moody's forecasts, the bank's capital adequacy will remain stable amid rapid growth, which makes the bank a reliable partner for customers, partners and investors.

— Kapitalbank JSCB is among the most reliable banks in the country and regularly confirms its status during the international assessment, — said Yerbol Sabyrgaliyev, Chief Risk Officer of Kapitalbank JSCB. — At the same time, as it has been noted by international rating agency, we not only maintain trustworthiness and demonstrate high profitability, but also grow rapidly, offering advantageous and convenient services to the bank's customers.

The "stable" outlook reflects the bank's balanced risk profile and Moody's expectations that the bank's key indicators will remain stable over the next 12-18 months, the agency's report says.

In January 2023, Kapitalbank JSCB joined the Uzum ecosystem. In the short term, the Bank will significantly expand its clients base via further integration with the Uzum ecosystem. Being one of the strongest banking brands and the largest privately-held bank in Uzbekistan, Kapitalbank JSCB, will offer a wide range of co-branding products in cooperation with Uzum, alongside the development of its own services.
---