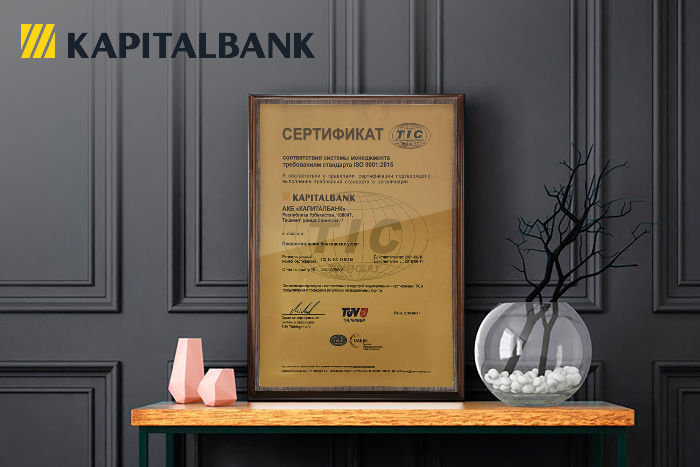 03/20/2021 17:45:19
"Kapitalbank" JSCB has successfully completed the second supervisory audit of the quality management system in compliance with the international standard ISO 9001: 2015. Thus, the bank has confirmed its title "Holder of the gold certificate according to the international standard DIN EN ISO 9001: 2015".

The audit has been conducted by TÜV International Certification, a leader in European and national certification, management systems, independent appraisal and audit in the banking industry. The experts have analyzed the criteria for the efficiency of business processes with the account of all changes in the internal and external environment and the level of digitalization of the bank. Compliance with the international standard in this area has been confirmed according to the results of the audit.

"In the conditions of current ongoing competition in the banking services market, a wide product line, offered by banks to individuals and legal entities, is of great importance. Herewith, an important factor in the competitiveness of the products and services provided by the bank is their flexibility, ability to meet the various needs of customers, depending on the changing environment and behavioral attitudes of customers.

The development strategy of the bank assumes the expansion of the range of services provided through the development of new types of banking products in the system for ensuring the sustainable development of the bank. A number of measures are aimed at sustainable development and efficiency improvement, introduction of information technologies, automation of business processes, professional development of employees and the creation of high-tech infrastructure discussion points, the creation of favorable conditions for strengthening and growth of the bank's resource base, promoting investment activity, and ensuring exit to a higher level of organization of banking activities in compliance with generally accepted international norms and standards", -said Alisher Mirzaev, Chairman of the Executive Board of "Kapitalbank" JSCB.

International auditors noted the responsibility and desire of the bank's management to maintain a high level of the quality management system, efficient selection of specialists with the account of their competence, education and experience. Experts have positively evaluated the system for monitoring the activities and development of the Bank's infrastructure.
---